I am copying other bloggers, who do this regularly. I think it's in order.
I am thankful I spent some time in the hospital this week, because it was AWESOME. I am not kidding. I freaking love hospitals.* I love that at the push of a button someone comes running to meet a need. I love that pretty much everyone who works in a hospital is by career and by law supposed to make my life better.
(*Except for a very unfortunate terrible experience at Beth Israel Deaconess in Needham, MA where I was misdiagnosed, treated unkindly, had completely unnecessary surgery, was ignored for hours, had a surgeon doing rounds actually notice my room was filthy, the cleaning crew who came harassed me for being a snob when it wasn't me that even tattled about the state of the room among other horrors. But other than that, I LOVE hospitals).
I am
thankful
that yesterday I had two nurses worth their weight in gold. The first put in a wicked awesome IV in a severely dehydrated, shriveled up vein. It hurt like the dickens but she got it in on the first stick and it is in the best spot. A nurse who knows what she's doing does the side of your forearm, NOT near your elbow joint. That way you can move your arm and sleep comfortably. You can't feel a good IV. Thank you Martha of Antenatal Care in Newton-Wellesley Hospital.
The second nurse outshone the genius of the first: it was the little things. She turned on the bathroom light and cracked the door open instead of flipping on the bright overhead flourescent lights when she came in my room. Where did she learn such kindness? She brought me a ziploc bag of lemon wedges that I could smell whenever something made me nauseated (which is often.) This is so far in all of my pregnancies the best trick to fight against my crazy hyper sensitive olfactory glands. I slept last night for several hours with my face in a ziploc bag of lemons. Call it weird, I call it survival.
She even helped convince my OB - wonderful, kind, humane, funny Dr. Richer - that I should get the best present I've ever gotten upon discharge. No, maybe the best present I've gotten
ever
.
They left my IV needle and port in. I am home now and my IV is still in. Do you understand how amazing this is? I will spell it out:
I am going to get IVs at home
. For awhile, several times a week. This people, is why I am grateful today. For the prayers that ushered Trisha the Nurse into my life yesterday. She took care of me. For the prayers that made helped my doctor see how much I needed this.
This is how I may just make it. This is how I will be able to be human. I smiled last night like I haven't smiled in weeks.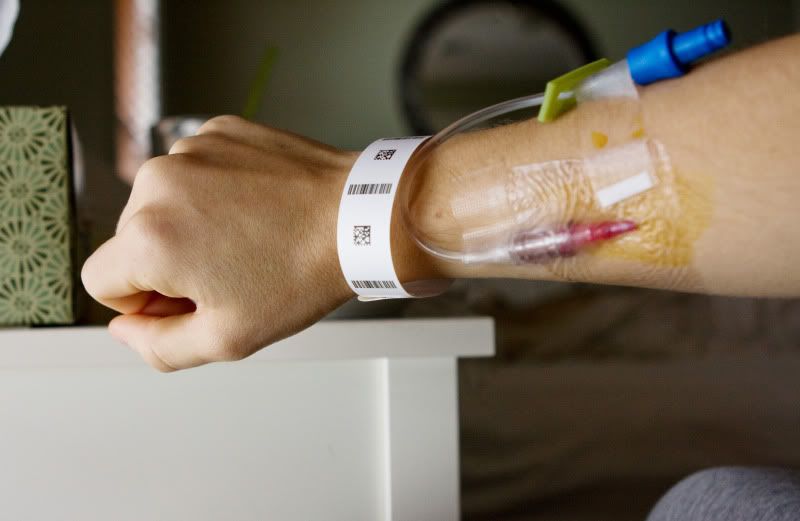 I am so thankful. Your entries into the "Have you Ever" game made me laugh, too. Thanks for playing! Time to lie down again. I don't want to push my luck. I don't want to kill the buzz from my last IV.