Hubs's younger bro is doing missionary work in Argentina right now. He got a rare chance to talk with his family on Christmas, and he spoke of how much work they were doing unrelated to celebrating Christmas. He wished everyone would just relax so that Christmas wouldn't be stressful.
Hubs quipped so his little Bro couldn't hear:
Welcome to adult reality. Christmas is stressful
.
This year it came at a less than ideal time for me. It was one of those Christmas Eves where I was in tailspin mode and the only concrete thought I had before I came
this
close to unhinged-i-tude was that I would like to break into every house that got our Holiday All of Us Smiling Joyfully for the Camera Card and steal it back because I couldn't bear the hypocrisy. Despite my previously declared efforts at feeling peace amid chaos I am not there yet. Woefully far from it.
The older I get the more I realize holidays come at bad times for all of us. Loved ones die on or near the holidays. Children are sick, or cry and throw fits instead of appreciate their gifts. Daddies or Mommies are in other countries fighting wars. Couples bug each other or feel like strangers. Traditions clash. There might not be enough funds for gifts. Or there was, and the car that was on its last leg truly dies so the funds are gone. Babies are in the NICU. People lose their jobs. There is a lot of build up for these days and there is so much that can go wrong. And adulthood bites sometimes, because the magic of Christmas isn't handed to us wrapped up all purty like. We have to create it for ourselves and if we are lucky, the little ones, despite the crap we are knee-deep in. We have to smile and declare
Merry Christmas!
when we want to go to bed with a sedative. Or cry. Or cry and then take a sedative.
As it turns out, the creating the magic part has its advantages. This year, I needed four little people to pull me up by my bootstraps when no one else could and to what to my wondering eyes did appear: a miniature sliver of hope with some mythical reindeer. I got there. I am stating for the record and for posterity in case they forget in future years, Christmas 2010: The Mom did not ruin Christmas for her children despite her poor coping skills the night before. In fact, I held it together really well and even made homemade gingerbread cookies and a few decent meals, and thought of cool gifts for them. I took cute pictures, and snuggled and sang Christmas carols. They had an
awesome
Christmas. Not only that but surprisingly,
I
had an awesome Christmas.
I can prove it.
This year our tree was a mini version, in the middle of our kitchen island. Because Tsega would have pulled a big one down 300 times and there is no way I could deal with that or any hospitalizations due to tree-related injuries. We liked it so much we are going to do it every year in addition to a big one.
Waiting at the top of the stairs to go down and see what Santa brought. I wish I could show you the video of how Hubs carried all of them down by himself. Heroic.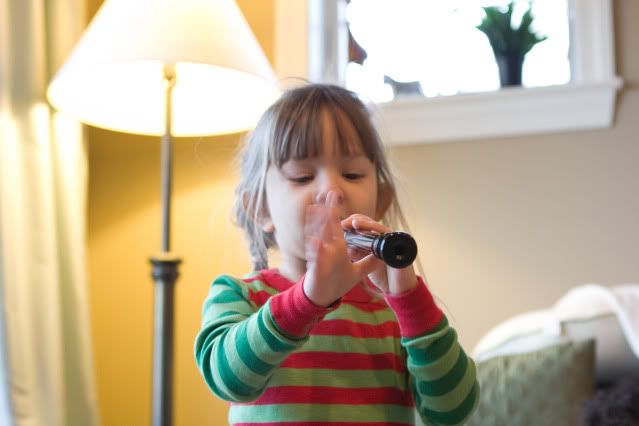 This little man is officially walking. And in this shot is letting the light from my photography reflector illuminate his conducting
Handel's
Messiah
. His first Christmas in the US was a little emotional for me.
Melkam Yelidet Beaal
, dear one.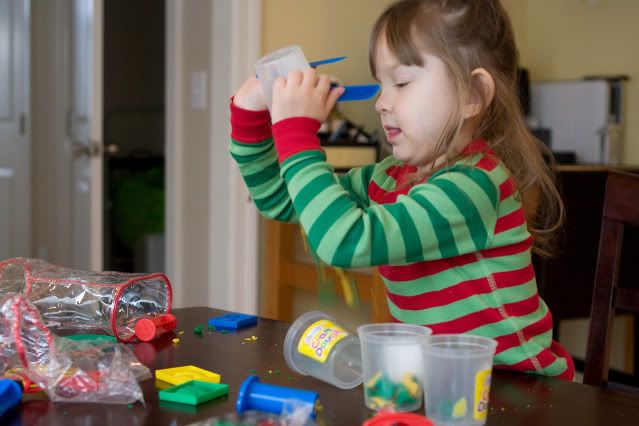 play dough baby.
This tiny man joyfully soaked it all in.
And for the moment, my four beautiful boys are napping, a sweet daughter is rinsing dishes and I am feeling less hypocritical and immensely grateful for my little brood and the warm house against the flying snow. All is calm. All is bright.