We had "the talk' with our kids at the dinner table this evening.
The one about how they have a lot of stuff. And how lucky they are that their bodies work, and if they get sick we have the best hospitals and doctors coming out of our ears in the Boston area so they will never have to wait to get help. And how this is not the case for most people in the world.
I asked them tonight at dinner, point blank, if they would be OK not getting presents from us or Santa and instead giving the money to help the above two beautiful people in Ethiopa get needed surgeries.
I cried as they said
yes
. They made a sign. They would like YOU to ask your kids, or yourself, if you want to make signs, too. They want you to ask if there is anyone in your family who would be willing to give to these friends, instead of you this year.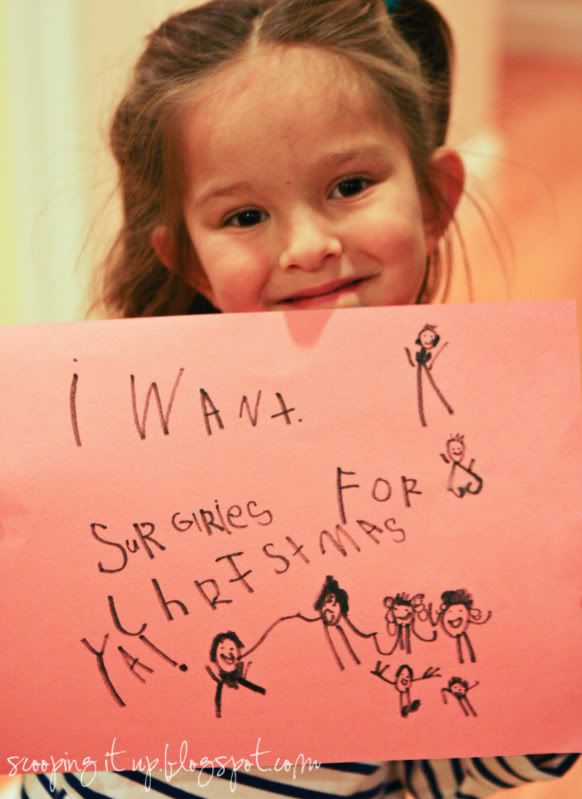 Please consider making this miracle happen. Please donate to
Dr. Hodes' organization
. He treats so many who without him would have zero access to healthcare in Ethiopia. He said when he saw their pictures,
"Send em over!"
If you make a sign too, please come back to the comments and share the link to your picture! Share it on Facebook! Send it to your families and friends.
Make sure when you donate you indicate Liz McGovern in the "tribute gift" section so we can track how we are doing.
Let's give ourselves and our kids the magic of sacrificing for the sake of someone else this year. I have a feeling this could be an addiction. I almost can't wait until next Christmas...
*Update!