If you ever want to learn about the patience of Job and how crappy a sewer you are AND get to know your new sewing machine, I highly suggest undertaking a toddler's quiet book. It is intricate, and requires some technical know-how. I don't have this. So I learned as I went, and I made mistakes ALL over the book, and I didn't undo
any
of them. I pressed forward making mental notes. I am leaving to visit family out west soon and I didn't have time for decent work. Almost anything that looks good came from the hands of my good friend L, who is an inspiration as well as saint for pulling a 2am jam sewing session with me on this book.Without her thoughts, I couldn't have put my ideas into execution nor helpful hands finish in time, though I should admit, I also was pointed in the right direction by
this post
after I had all my materials.
I did not go about this book in an effective, efficient manner. I had no preconceived notion of how I was going to do this or
what
I was going to create, and instead just showed up at JoschmAnne Fabrics twenty minutes before closing knowing two things.One, I wanted some buttons, zippers, snaps, velcro and two, I needed some fabric. I started randomly throwing things into the basket without a clue at all of what kind of pages I wanted to make when I got home. Considering this ridiculous method, I proud of what ideas germinated out of the scraps and notions, and I am grateful I had supplemental fabric at home because once the ideas flowed, I needed more colors and textures than I actually bought.
Oh but it was tricky. I once spent 45 minutes (in the 2am-3am slot) playing with the darn machine and trying to find a helpful YouTube video in order to change the presser foot so I could do different stitches and get around a zipper better. I know how to do that now, and it takes less than two seconds, but learning mid-project and loosing momentum was tough. I changed thread, bobbins, stitches countless times, each time getting more efficient and confident.
It is painfully obvious that the tension on the machine went haywire on me around 12:30am tonight and I couldn't recover it. I messed with it for about five minutes and couldn't get it right, so I still kept going. All the messy grouped up then spaced out stitches? That is machine tension gone wrong in the hands of a novice. Embarrassing, but I am OK with it.
I will admit, my brain is far faster and more creative than my ability to create. I have so many more ideas for additional pages for this quiet book, which I hope to make after my trip. For now, this is good enough and I think might actually entertain my little sensory seeker for almost one eighth of the time it took for me to make it.
Ready for the unveiling? First page: C is for Cars
I cut out a pocket out of some old boys' cargo pants, complete with zipper, pocket and snaps, how is that for a shortcut? I used black felt to make a little road, and inside the pocket Tsega's searching hands will find some cars and "choo choos" to use on the road.
Next page: Space Station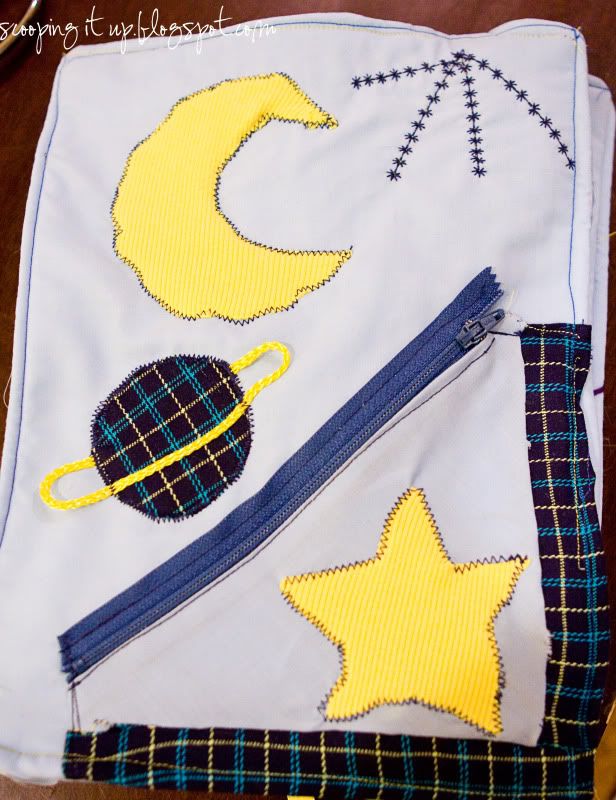 A zipper pocket reveals some rockets that can fly around and land on the planet, moon or stars. They can be counted, put to bed, blast off again.
Next page: fuzzy cute Panda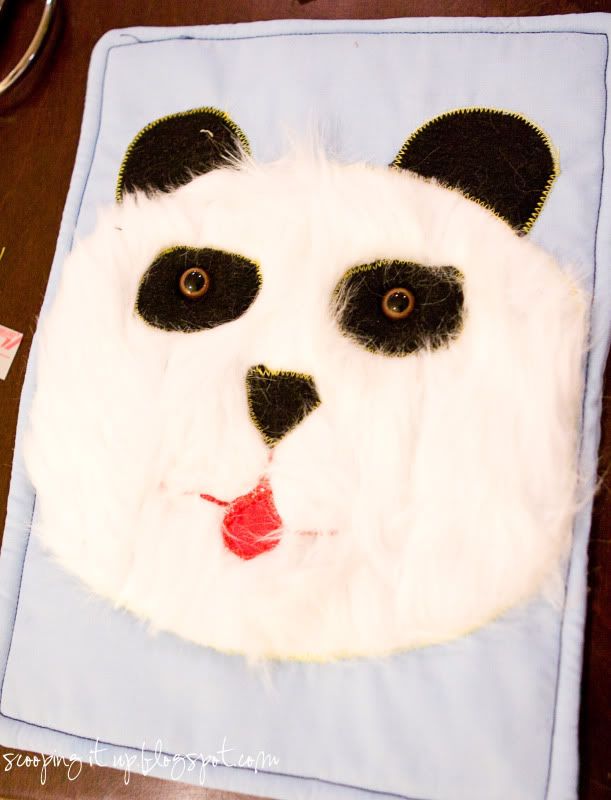 He doesn't do anything, but he's soft and loveable and touchable.
Next page: Clothes Line Tree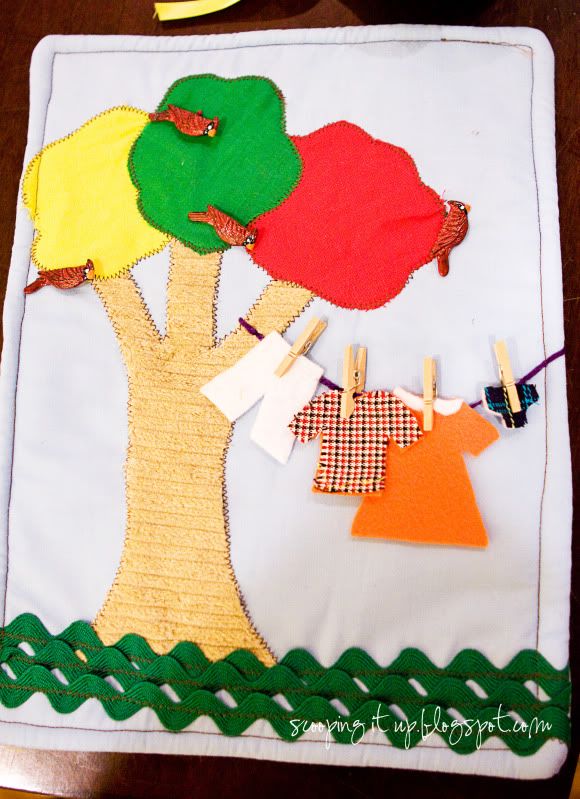 See those cute little clothes and pins? They come off and can be rearranged.
Next page: I Need Some Mittens!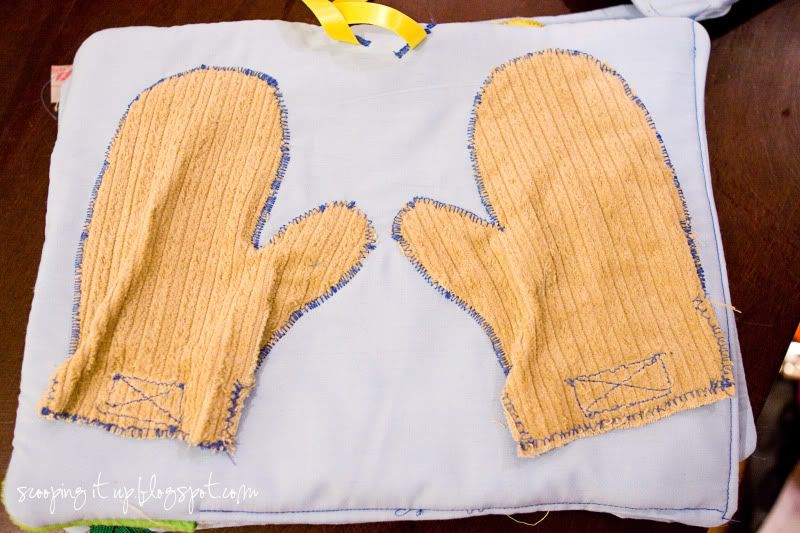 Some velcro added to the bottom to make things more fun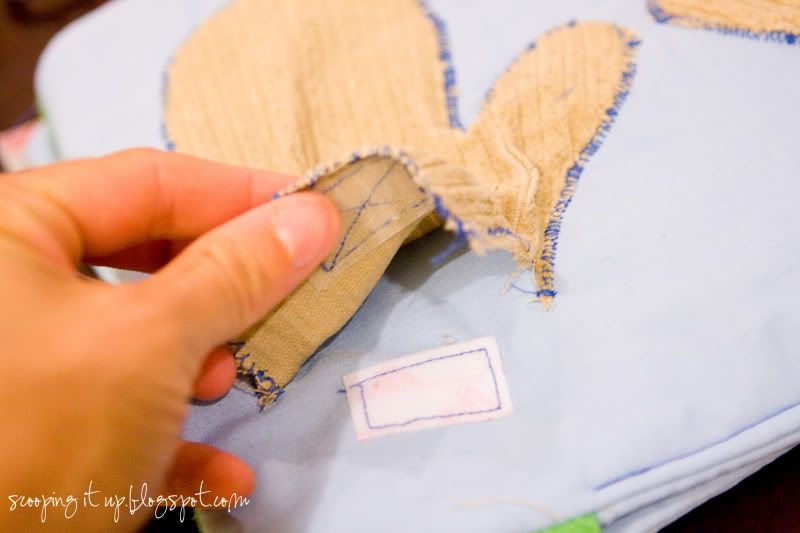 And then little hands will fit in to get nice a toasty! (My hands are too big, clearly)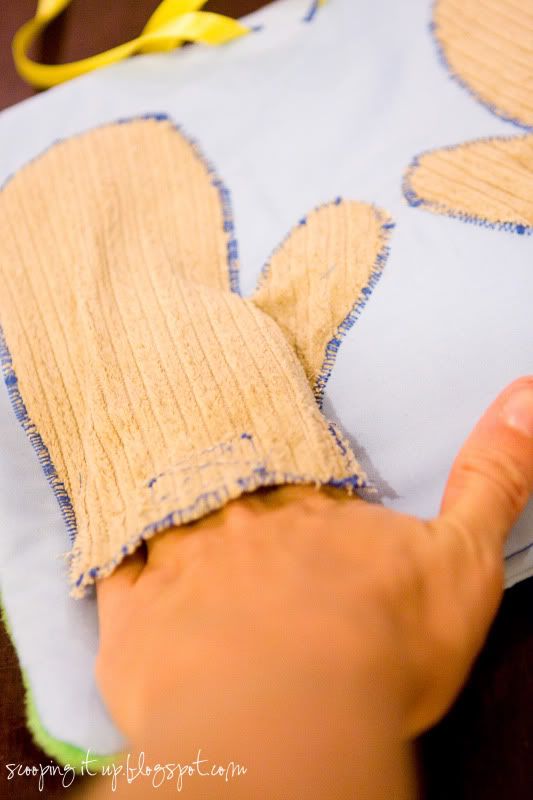 Final page (so far): Tsega Boy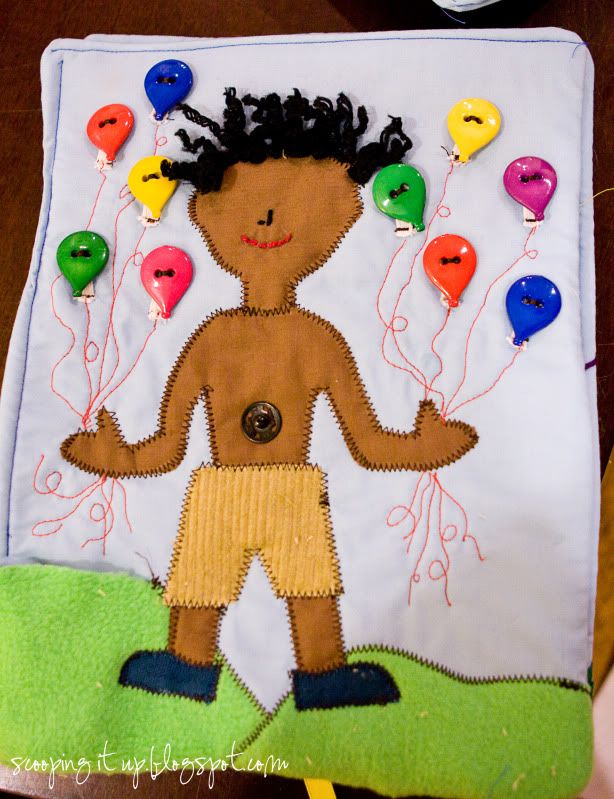 Tsega is still needing his eyes, and look, he's missing something else. There is a secret pocket!
And he can change shirts three or four times, just like in real life every day...
Thank you to L for all the help and manual labor and creativity. I can't wait to make more pages!
Will this book make the flight with the kids better? I will tell you in two weeks if it doesn't kill us.