Do you remember
this pos
t? How different they are now. How long ago that seems.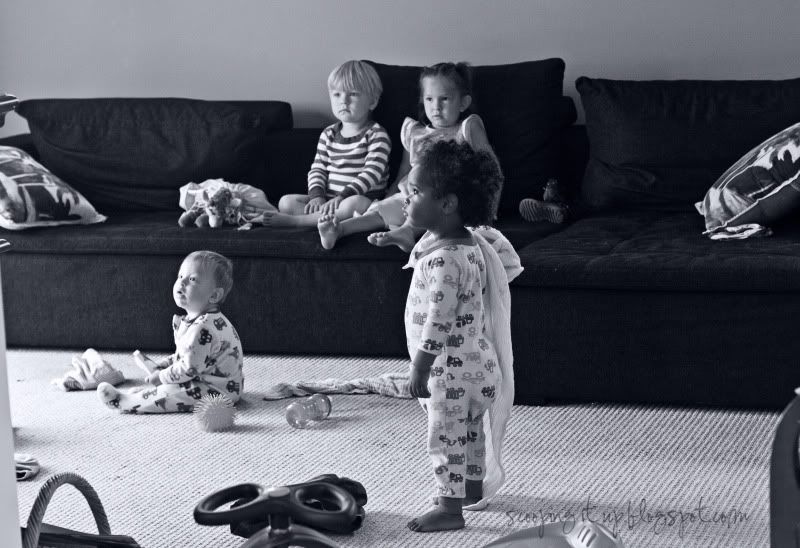 Some things though, haven't changed. Sometimes I let PBS and YouTube babysit while I load the dishwasher or mop. It's imperfect, sure. I
never
thought I'd use media to sedate my children. I am a bit of a technology- phobe in general. But this isn't the only thing I've done that I swore I'd never do.
I'd never eat food off the floor.
I'd never open a package of crackers in the grocery store to keep my kids quiet
I'd never let my child sleep in my bed
I'd never hand a baby a bottle in his bed to go to sleep (as opposed to rocking him and taking bottle with me when baby is done)
I'd never go four days without showering.
I'd never yell.
I'd never pee in a public restroom with a child strapped on my back in the Ergo and holding another one on my hip
I'd never send kids to bed without brushing teeth.
I'd never just throw a towel over a pee accident and tell a sleepy child to just go back to sleep.
I'd never nurse a baby past a year.
I'd never have a kid who got into things.Or wiped poop on the wall. Or bit other children in public places.
I'd never let a child use a paci past the age of two.
I'd never make my child miss naps and get off schedule.
The things we think before we parent, or the ways we change as we parent more kiddos...are downright comical. I recently heard of something my husband's late aunt would say. She had eight children close together and legend has it that she'd claim "If each night I can say all of my kids are one day older, I count that as a successful day."
It's a message that resonates with me big time. Between Tsega and Brady, the possibility of injury and death at any moment is at an all time high. I am getting more and more grateful just to make it to bedtime without stitches or Heimlich maneuvers.
And so, I use PBS a few times a week to teach my kids about
stygimolochs
and counting to nineteen. And YouTube to inspire their artistic minds. Because there is a high likelihood that during those times, no one is going to get hurt and I might get half an email sent, or a few things loaded in the dishwasher. I call that success.
And for your sedation pleasure, here is what completely transfixes my kiddos while I make dinner. (Actually, these get them singing and dancing too.)
Then for fun they always ask for this one after the previous
This one is fabulous beginning to end.
Happy dancing!