In January of 2010 my brain went on a dive bomb when I realized I was on the pregnancy train very unexpectedly. Within days my body followed my brain I was on bed rest, and didn't move for awhile. Then came two babies, and the rest is history.
The point of the recap is that save a few pockets of effort and a somewhat disappointing stint with physical therapy last summer, I have not had a good handle on my body since December of 2009, which is sad and also a very long time ago.
A few weeks ago we planned a trip to Grand Cayman. (No, we are not going alone, yes we are bringing all the kidsdoyounotknowmeat
all
Ican'tevengotothebathroomalone.) There are two things I am doing to combat this stagnancy in my health and self esteem as swim suit bottoms loom in the near future and I wanted to share, for accountability's sake.
One, is actually exercising. Like, for reals at least five times a week. Even if it's only twenty minutes. Even if my knees kill me. I have been doing it. And oh Internets, it is humbling.
I've had a respectable commitment for several weeks now and results are s-l-o-w. And that is new for me. My butt just doesn't want to lose itself apparently. From here on out, staying in shape, fitting into jeans, feeling like I like my legs could very well could be an uphill battle. Oh youth, where art thou?!
I haven't been going to a gym, or to classes. I've been trying to do it the free way: finding videos online of the personal trainer that Madonna and Gwyneth Paltrow use. Yes. I am now that girl. The one who wants to have a celebrity booty. I know it's shameful to care but just in case you are as shallow as I am, here is one of the vids I found and Oh Mama it's a good little work out. Just try it.
The other change around here has been brought to you by another device. I know I know, I tried to sell you a mop last week and here I am again oversharing appliance love.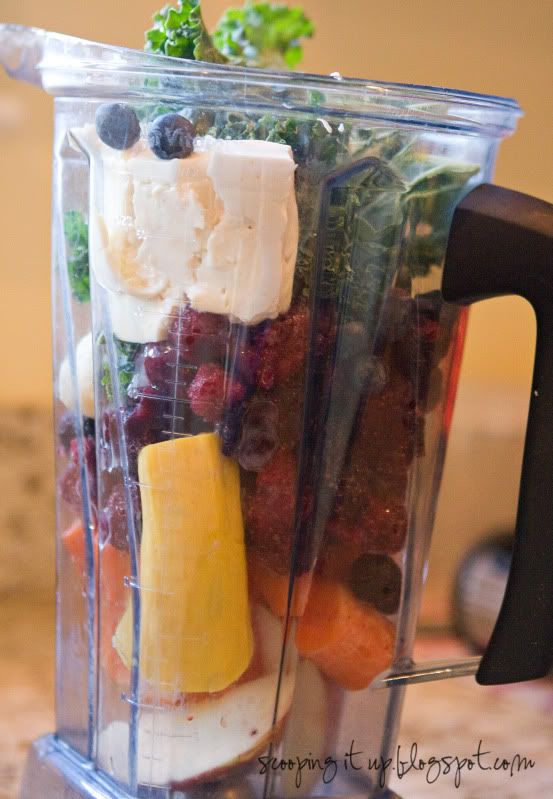 In this blender are
blueberries
raspberries,
a whole orange,
a whole apple with seeds and stem,
strawberries,
a banana,
1 cup of kale,
half a yellow squash,
a whole carrot,
tofu,
almonds,
ice
and before blending I added a little bit of soy milk.
I know the price of a Vitamix blender is staggering. Disgusting. Preventative. We managed to get ours for hundreds off the sticker price due to luck. I wish all of you the same luck in the timeless words of Ferris Bueller:
If you have the means, I highly recommend picking one up.
See, this appliance has changed our lives and our health. I am fairly certain it can split the atom, maybe solve cold fusion, but more importantly it hides all sorts of vegetables in yummy smoothies. It takes less than ten seconds to pulverize all those ingredients I listed here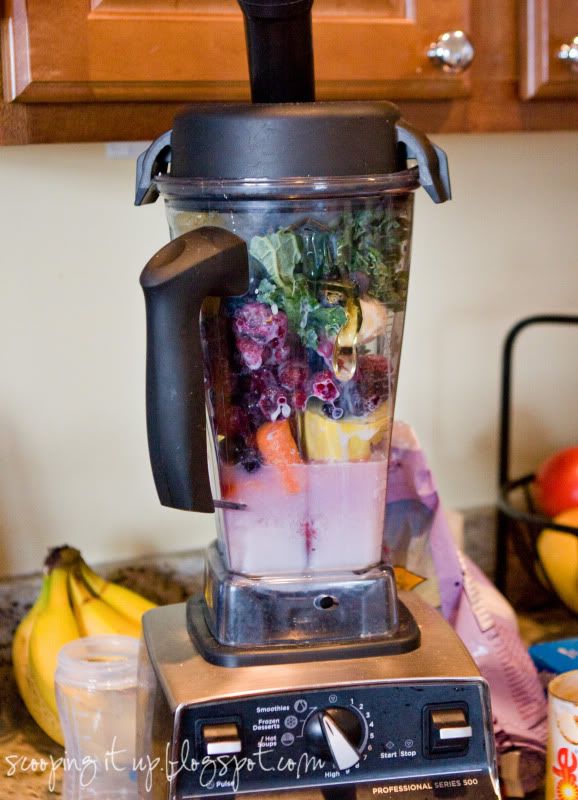 to this
and in less than one minute you are here
Almost two liters of raw fruits with three vegetables hidden in and we all drink it like it's a dessert.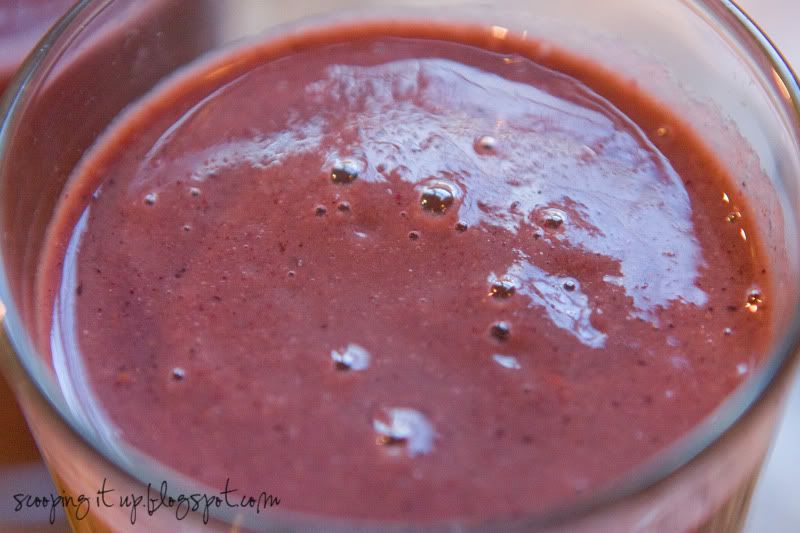 This picture is totally unnecessary but it was pretty.
This one
is
necessary: This is a kid who thinks he had a treat but he just had more than half his veggie and fruit requirements for the day.
And it's pretty.
Here is to the Cayman Islands Butt-into-Swim-Suit Countdown, and feeling better about myself. Come on over, I will make you "treat."