Figuring out the food situation with six kids all with different tastes and abilities to cope with meal times has been interesting but so far, not as bad as I anticipated. For example, I was under the distinct impression the two girls recently home from Ethiopia would rather be dead than touch a vegetable. Then I made
gommen
, and Ethiopian dish which is steamed collard greens with garlic and a few other spices from the pantry, and they went nuts. Between the six kids, who all strangely love this dish, we have gone through FOUR POUNDS of collard greens since Saturday. I am not kidding.
Other sure fire foods, apple slices, peanut butter, scrambled and hard boiled eggs, protein bars dipped in peanut butter, strawberries, avacado.
The first day the girls were home I made a massive vat of fir fir for breakfast. Fir fir is like eating heaven sprinkled with love. It is not a health food, but rather ultra filling, ultra tasty comfort food it is also Ethiopian food that is impossible to mess up and is done in less than fifteen minutes.
Ready for the simplest recipe ever?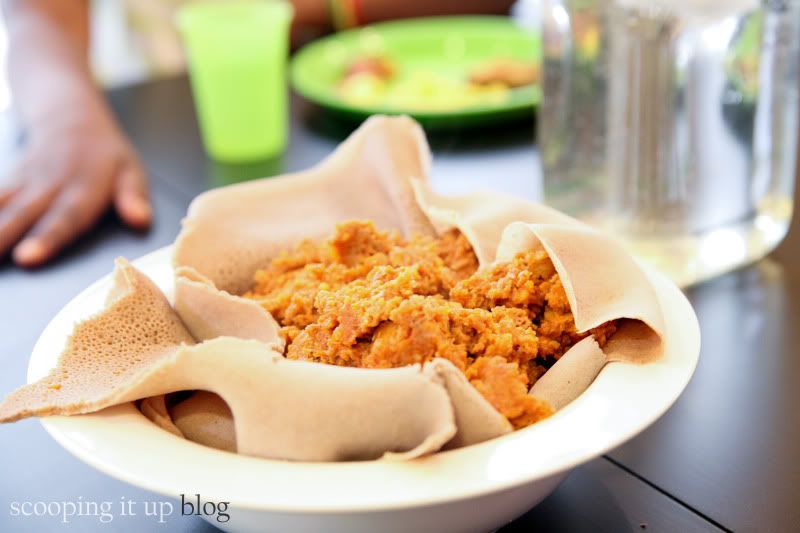 1/4 cup olive oil
1 onion, minced finely
5 cloves minced garlic
berbere 1-2 tablespoons, but if you need less go for it. I think it tastes bland with less than one 1 tbsp.
salt to taste
3 oz canned tomato paste
2 1/4 cups water
Injer, day old or two days is best. If you want to take two rounds out an hour before making so it dries a little that is good, too.
Saute onion and garlic dry for 2-5 minutes, add oil and saute another few minutes. Add ¼ cup water and berbere and stir till blended. Add 2 c. water and tomato paste. Bring to boil, stirring occasionally. Add broken-up injera. Stir until injera has soaked up all liquid, you can turn off heat.
Serve in some non-berbere soaked injera and watch your kids smile.