Our girlies have been home nine weeks. How did the two month mark pass us by so quickly? Frankly, it feels like they've been here a century. Everyone has come so far. Hubs and I are off the adrenaline rush and feeling more wiped out than we did a month ago. But what continues to surprise me is how well the children move in and out of each others' space, how much like like each other. And maybe most of all, how well they communicate.
I overheard a conversation in the car last week wherein Samantha and Fikir were trying to explain how the problem of baby teeth are handled in their respective cultures. Samantha said
Tooth out, put under pillow, squish, wake up, tooth all gone! Fairy, come, take, all gone!
She used hand motions to show the tooth coming out, pushing a pillow down over a tooth, sleeping, and waking up. She did naturally was speech therapists do: she took out all the filler words and stuck with nouns and verbs, used motion and facial expressions to get the message across. Fikir understood perfectly what she was saying. Samantha knows just what information to include to get her sister to understand. How does a six year old figure this out? And Samantha also understands Fikir's pretty substantial difficulty pronouncing words, remembering English phrases, etc, and when I am saying
Fikir, say again, I don't understand, try again.
Samantha casually butts in,
Mom, she means ________.
Cookie and Samantha and I are all picking up more and more Amharic. We work on it, we take turns reading stories and exchanging out the English words for Amharic. It's hard work but so very much fun. The dictionary is our best friend around here. And I think the girls enjoy a chance to be the experts and the teachers every once in awhile. The power shift is a helpful one.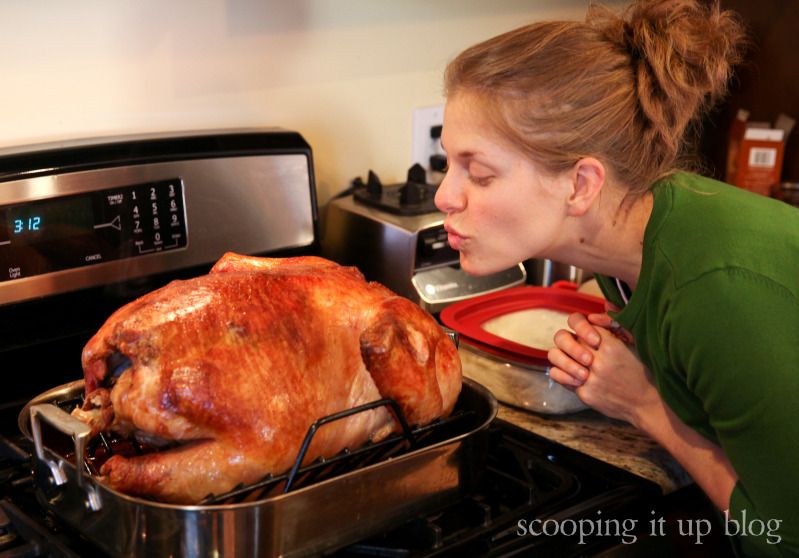 Thanksgiving this year was sufficient. How is that for an adjective? We hosted, the food was good, the children were on fairly good behavior. I cannot complain. I am certain it will not go down in the books as Most Memorable Ever, and that is okay. Here I am with the 30 lbs turkey, baked five hours to perfection. I cannot believe Hubs and I pulled it off. It barely fit in the roasting pan. I didn't bother trussing it.
My favorite stuffing is so darn pretty, and none of the kids loved it, more for me!
We are blessed. We worked hard all week to help the children think about that, remember to be grateful, to be aware of our blessings and we
almost
survived the day entirely. Around 5pm a colossal headache took over me and the last hour I was walking around I do not remember what I said or did. I do remember feeling irritated my children and the others in the house were begging for desserts with the sound of entitlement and whining. I realized around this time my headache was making it impossible for me to stand, let alone have patience. I was about to make a scene. Truly, I might as well have been drinking because I have no recollection of going to bed but I surely did, before seven pm. I have no idea when our guests left, Hubs put all the children to bed, and I didn't wake up until the next morning at 8am, feeling like I was hit by a truck. It was a bizarre experience and I still am working on that headache.
Before more holidays come my way, before the new year bursts upon me like tidal wave I do not want and cannot stop, I wanted to pause and write a little bit about how things are with the children. Buckle up. Here is how things stand right now with each of my lovelies.
Mimi.
She is the perfect age. I remember
worrying so very much about what a twelve-year-old does,
feels, needs, likes, wants. But as it turns out, she is the perfect tween. Old enough to put the babies' shoes on and young enough to play baby dolls with the younger girls. Old enough to love watching
The Cosby Show,
young enough to like reading
Elephant and Piggie
books. Old enough to fold clothes, put them away and not flinch at two hours of hair braiding, young enough to want to color in coloring books and do crafts with her siblings. Her English is coming along beautifully and we are jamming like crazy to make up for three or four years of missing math lessons. Right now we are in third grade material but with lots of one-on-one we hope by the end next summer to be rocking 5th grade, ready for 6th. Lofty goals, but she is a smart cookie. She is also patient, helpful, cheerful, silly, confident and good at asking for help with she needs it. I love that this week she asked if I would stay to watch her zumba class. And while she danced she kept looking at me with a beaming smile, making sure I was there watching. I also loved that when she noticed the checker at the grocery stored looked Ethiopian she asked the woman if she was Habesha and had a conversation in Amharic with her. She is a heart breaker. She is, without knowing it, a poster child of older kiddo adoption. Not everyone has her ease, and peace about her. I keep waiting for attitude and normal kid stuff; I think she is still on her best behavior and while I appreciate it, I kinda am looking forward to her realizing that no matter what she says and does, she will still be loved and accepted. I want to peel my peaceful little onion a bit.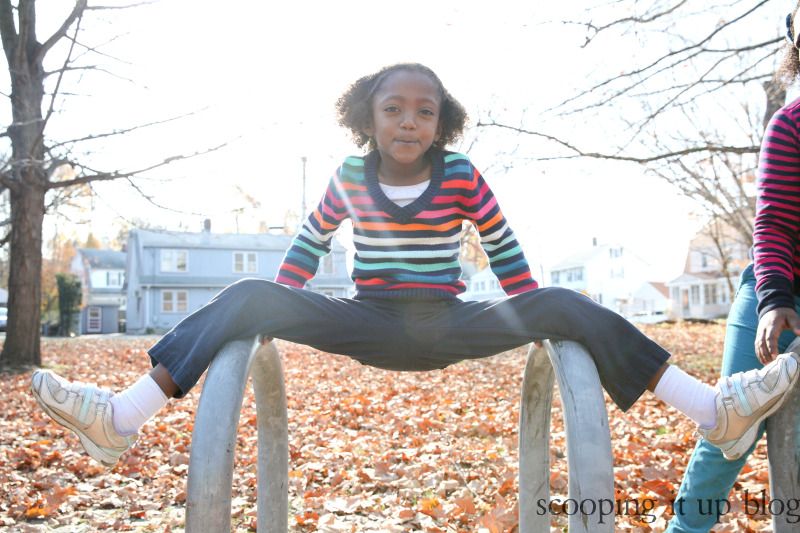 The Six Year Old Duo, Samantha and Fikir.
They are the ultimate twins. They love doing things together, sharing clothes, toys, day dreaming together, and simultaneously are working on dealing with not being the best at everything. Samantha can read, Fikir can't yet. Fikir can do front and almost back walk overs, Samantha has been working on those for months and isn't there yet. They push each other to try hard and while there is a bit of competition there, they love each other so much. I am so proud of them for working through the hard moments and enjoying the silly times. They are a really great team. They, with Mimi and Cookie Monster, are in a full blown Horse Worship mode. They play pretend Saddle Club non- stop, draw pictures of their future horses and stables, write stories about their lives as horse riders. I support the obsession and hope someday, somehow, they will get a chance to fulfill this very expensive dream. Because
I
still harbor that same dream. Age six horse love has never left my system.
Our current read-aloud book for school is
Little House in the Big Woods
, and I am starting to separate the girls' school assignments more and more. Fikir hasn't had school, and Samantha needs to move forward. The best part of home school is being able to meet everyone where they are, and that has meant some major adjustments for me. I had planned on the girls learning first grade together that is not possible. And that is OK. I have discovered Samantha is good at writing poetry and stories, and when left alone will spend hours writing her notebooks, imagining and creating. Samantha, the leader of the pack, is doing such an amazing job of relinquishing her hold of the power in the house. She still loves to lead, but has learned so much about letting go. My heart goes out to her for learning some hard lessons early in life.
Simultaneously, we have discovered that Fikir, when she is not even putting forth more than an ounce of casual effort, runs faster than every person in our family. She actually can keep up with the two adults while
not even trying.
I don't want to race her when she's trying.
Fikir had a few rough weeks, and I am sure will again, but we've made some adjustments in the family and I am amazed by her strong spirit and drive to connect and have closeness with her parents and siblings. So many of us, when faced with challenges, heartache, disappointment, hurt withdraw. She does not quit. She is sparkly and silly and has a loud, unabashed laugh.
It is a joy to watch this friendship I am just so happy that they are finding mostly positivity in this new sister dynamic. I hope it stays.
Cookie Monster.
Four and a half. He is reading like a tiny machine. He is on lesson 55 of
Teach Your Child to Read in 100 Easy Lessons
, and he is chugging right along. So proud of him. He is loving his gymnastics class, itching for soccer and is holding me hostage to my promise that when he turns five he can start cello lessons. Cookie is going through an uber silly/awkward little boy phase; when he doesn't know how to break the ice with a stranger, he assumes that wrestling with them is the way to go, or chucking a ball at their head. The good news for him is that most people that come into our home can handle rough housing, but bad news is, he has a LOT of physical wiggles to get out, and he is very much like a puppy in a pack of wolves. He is the biggest puppy, and attempts night and day to rope his sisters into his physical play. He loves driving them bonkers. If we are all reading, he just needs to make it physical. So he will lay across all their laps and start rocking. He is not content unless he is touching someone at all times. It is kinda hilarious, sweet and sometimes, when he's pushed everyone past their limits with his pinching and harassment, I assign him to go outside with a stick and hit a tree. Seriously.
Cookie, just go outside and hit a tree.
Favorite endearing trait, he eats a pear every night in bed. He cannot live without pears.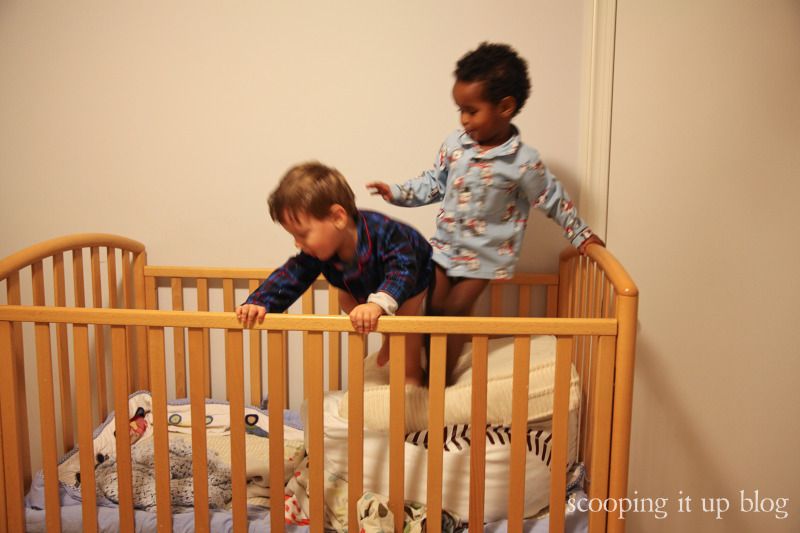 Brady and Tsega
A picture says a thousand words, but this one requires more. I took this shot at 1am. I walked by their room and under the door saw that the light was on. This is
never
a good sign. Tsega was out of his crib, in Brady's, had stripped he and his brother out of sleep sacks, jammie bottoms and diapers. He had hauled a chair cushion and bean bag up into the crib to create more height, (more danger) and they were taking turns jumping or flipping down the hill into the left side of the crib. The room was strewn with wipes and diapers, which had been on a shelf so high Cookie would not be able to reach it. I DO NOT KNOW how Tsega got to them, since they were on this high shelf in the closet. This crib in the picture, by the way, was broken the next night in another midnight party. Tsega ripped off one of the sides. Brady now sleeps on the mattress on the floor.
The little boys are on a free fall of danger. They are not getting more regulated and smart as time goes by. They continue to make worse choices. It is not fun to watch and exhausting to be around. Because of so many older siblings in the house it's hard to keep track of all the "no no" items that the boys can get access to. Markers, pencils, scissors, push pins. They find them, even when we think we are being careful. These two are going to eventually put Hubs and I in cardiac arrest. We are doing a safety overhaul by adding higher, more intense locks on many doors leading outside and inside the house. We also are working on a monitoring system in the room, (we had to take the baby monitors out a few months ago because cords are not a safe item in those boys' hands.) If those don't feel enough, we may also have to have Tsega sequestered. If I can't trust them in the middle of the night to sleep, then, well, we can't leave Brady in there. This all would be funny if it weren't so discouraging and worrisome. Relieved to have a plan in place to up the ante as far as safety goes. Hopefully it will make things easier.
In positive news, when they are not brawling, getting into the trouble with Vaseline and pens and furniture, or screaming, these two are the best of friends and both are getting more and more chatty. I love hearing their little voices, seeing how they think, what they love. Tsega is picking up Amharic from his sisters and is getting more cognizant and proud of identifying as an Ethiopian as well as talking about being adopted. Brady thinks that every person who comes over to our house is a person from Early Intervention and is therefore here to play with him and do no other thing. He is turning into a clingy Mama's boy which I love since he is my last baby, but also highly inconvenient.
Hubs and I recently realized we are tired because Baby Mode has been going on since 2006 with no breaks. There has been someone in diapers non-stop since 2006. Since 2006 there has been danger of someone choking to death, drowning in the tub, falling down the stairs, poking their eyes out, drawing on walls, waking up at night etc etc etc. It's been a long haul and it's not over yet. Is it possible some day we will miss it? Or is it possible that some day it will be over long enough for us to miss it?