Several nights ago the children were engaging in full blown ugliness. Even the oldest ones, normally capable of amazing keeping-it-together-ness were bickering, caterwauling and fighting. The toddlers were screaming their heads off and I was in that state where I try to explain to -apparently zero people because no one is listening in the slightest-
If you don't leave me alone, you will not eat. It is so simple. Food requires you to let go of my body and shut your mouths.
Somehow amid the mutiny uprising, one or three of them begged me to make
ch'chebsa,
an Ethiopian dish that has almost no nutritional value but tastes like candied awesomeness. It takes at least an hour to make start to finish for this many people and I didn't know how I'd make it through (Read: put on Dinosaur Train) but I tackled the dish and somehow the promise of this food made everyone chill out. The mere idea of this food acted like a natural sedative.
As soon as it was done, they came running. It was like they were sprinkled with magical pixie dust of Kindness and Good Will Towards Mother. The children who had just been fighting pulled a 180 and may have been skipping and holding hands on their way to dinner.
So how to make this unhealthy, delicious snack? Give yourself 1.5 hours to 2 hours. If you are making it for two or three people, much less time. But if you have a crowd, plan on being on your feet for awhile.
UPDATE: I learned a much more authentic way to cook this, and for instructions, hop over here to the updated post with video instruction!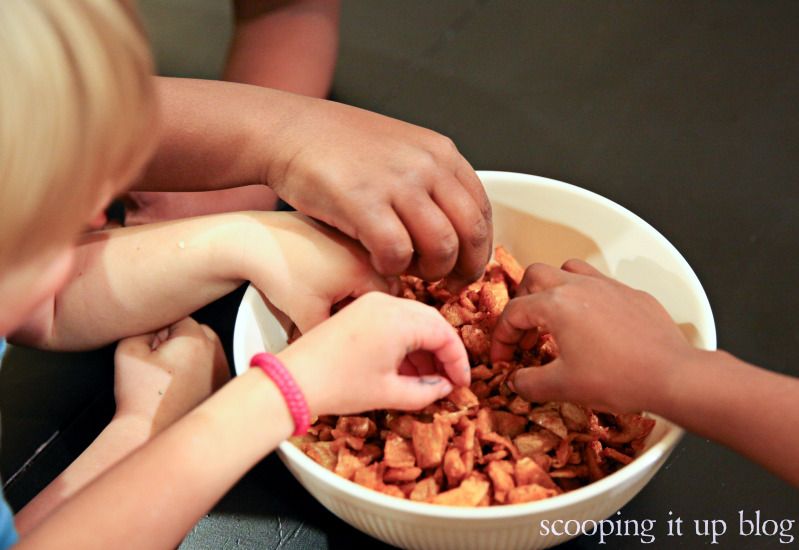 Eventually, the babies found out what was going on and they came running too. Tonight, dinner had no forks. No plates. They all ate out of one bowl and I was thrilled to not watch them chew. I let them at it. Incidentally, the following picture is my new favorite of my kids. And now they will be able to answer in the affirmative if anyone ever asks
were you raised in a barn?
Look at how I let them eat...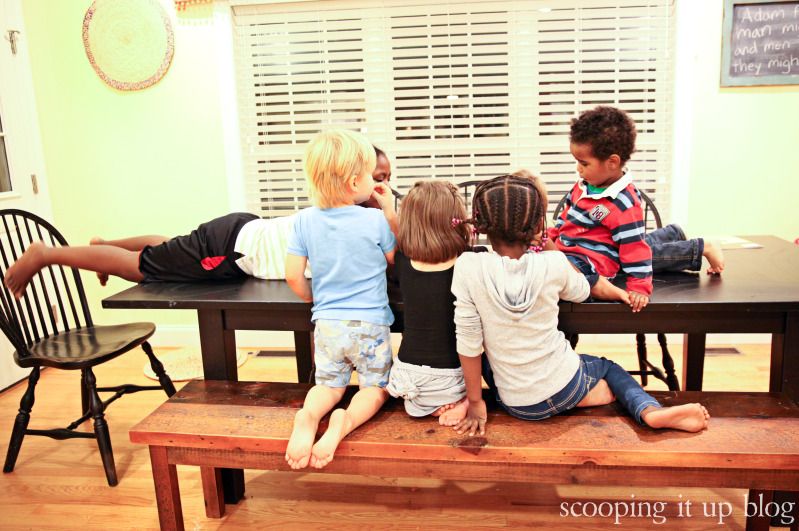 One interesting side effect of cooking Ethiopian food for my children, even the ones not born in Ethiopia is that it opens up the door for discussions. Topics come rolling out without guidance from me.
Let's move back to Ethiopia
Maybe Mom and Dad can adopt __________ (the name of the girls' mom) and her come here!
Maybe she can adopt the white kids, because Mom adopted the brown kids. That way everyone has two moms.
Maybe our neighbors will move and then we will have Ethiopians move in. I wish whole town just our family with white people, everyone else Ethiopian.
Yeah! That would be awesome!
The food brings up memories of their time with their parents, their friends at the orphanage. Tonight I learned names of people and details about the past I'd never heard. Ethiopian food is the catalyst for healing, connection with the new family and with the first family. It opens the floodgates of contentment and memories. And for the kids who haven't been or do not remember Ethiopia, food is part of their pathway there.
It should be noted, once I realized I'd fed my children solid fried bread for dinner, I quickly chopped up an entire head of collard greens and steamed/sauted it with garlic and a few spices to make
gommen
, another favorite Ethiopian dish. It is fast and healthy and as you can see, all my kids eat it.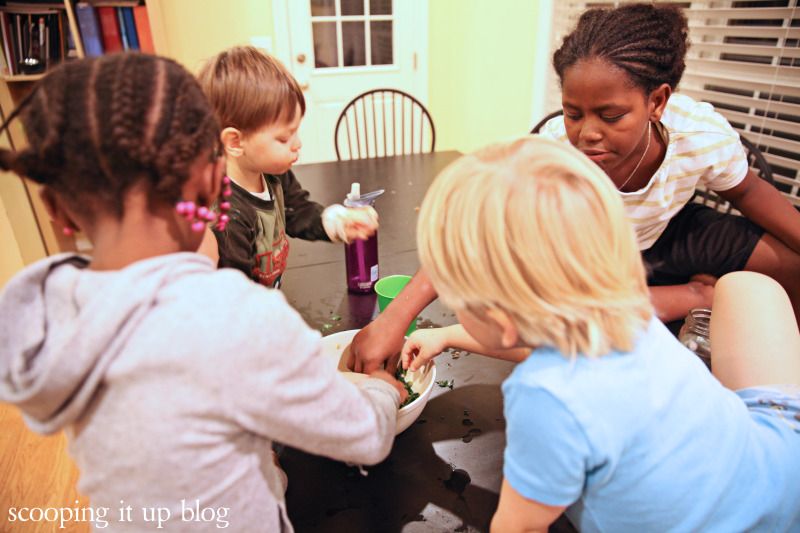 I sometimes wonder if I have the only four-year-old boy in the universe who demands we buy collard greens at the grocery store. The six children ate almost two pounds of collard greens in this sitting. The bowl was empty when they were done.
I have discovered that
Ch'chebsa
is the ultimate comfort food. It is a royal pain to make, and worth every minute. Maybe it will bring a little happiness to your house this week, too.