Last year my kids gave up their Christmas so Mom, Dad and "Santa" could donate to an important cause,
one far away in Ethiopia.
This year, we worked hard again to down play Santa's role and influence by strongly suggesting they need to give it up again this year and help others who need some love.
* Disclaimer
I
know
the previous and the following might sound high and mighty. I don't know how to talk about how much I love our new Christmas tradition without being obnoxious. So please, friends, if you play up Santa and do Elf on Shelves and all the stuff that goes along with it,
great
. I do not judge you. For us, Santa makes
so
little sense for a few reasons. 1) We have two children who have celebrated Christmas for years and years with zero mention of Santa. Are we supposed to concoct a lie about how he only visits the US and somehow consistently forgets Ethiopia, and try to come up with another lie to explain why so many books and Christmas movies readily profess
he flies ALL over the world,
which is obviously not true? 2) We are Christian, we heavily celebrate Jesus' birth. The commercialism and materialism that accompanies the Christmas season feels to me in conflict with much of Jesus' life and teachings. 3) Perhaps most influential of all of these is that some of the kids respond very very poorly to New Things. New things in our house and breaks from routine cause anxiety, fighting, uncertainty and tension. A day filled with
Many
New Things can be a bit of Nightmare on Scooping it Up Street. With all these factors combined, Christmas has steadily been getting smaller every year that goes by. If you are a family that can have balloons in your house, because this is "normal" and "fun," you may not have any idea what I am talking about. If you have children that cannot handle things like balloons because they cause raging meltdowns for hours, days or if balloons stick around long enough, weeks, you will understand why eliminating most presents (and all balloons for the next five years) on Christmas is important to us. This is what we need to do.
PS. Hubs grew up loving the Santa tradition and is not as hell-bent on just coming straight out and telling the kids he is a hoax and getting on with life as I am. He skirts the edge and dangles the magic a little. I have no idea how to do this as my parents never "did" Santa. To me it is all very uncomfortable and I appreciate his willingness to downplay and replace Santa for the most part. In summation: I will not begrudge you your Magic and Santa, as long as you let me share about our almost-Santa-free version.
* End of disclaimer
This year, our Christmas Cause hit a little closer to home, helping children in our own backyard. Some who really needed to feel joy.
The back story: Every week we have the immense delight in visiting the best library in the world. Best in great part to the amazing, generous staff who welcome my busy, screamy, running brood with forbearance and gentleness every time we come like a hurricane through the elevator doors. Look at this place. It is like a church.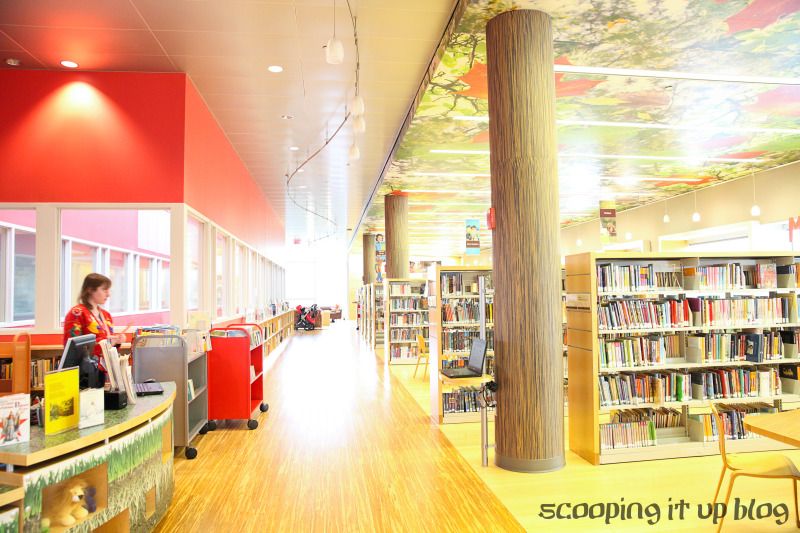 They nurture my children.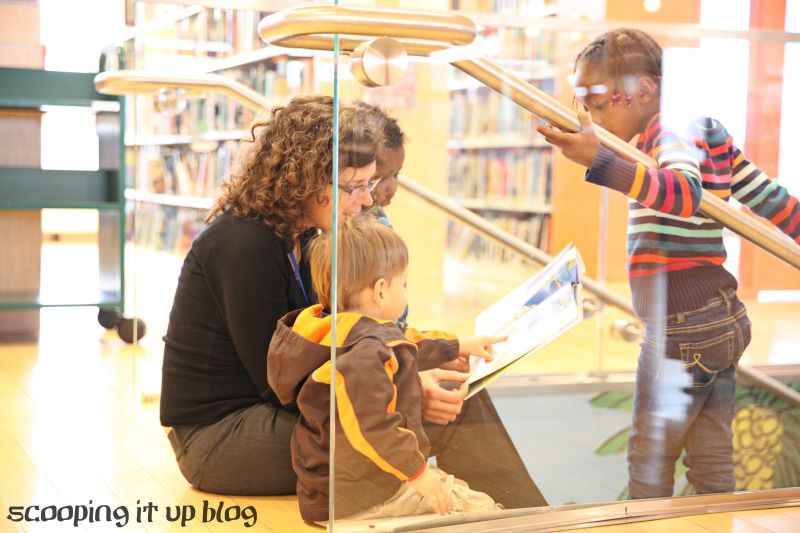 Support their interests and talents.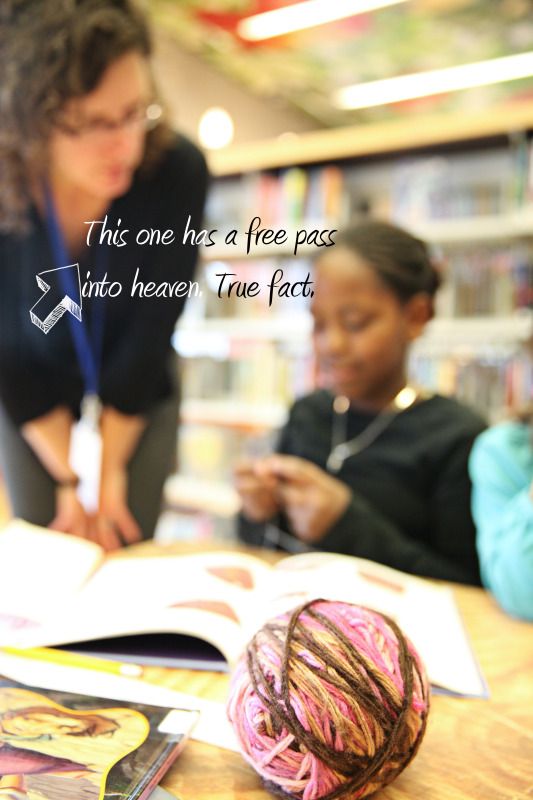 The angel women who work here and share love of literature with our family held a book drive for children in transition. Kids who have lost their homes, are living in shelters; kids who
need
Christmas. Getting my children on board with this effort was an easy sell: We have at least two hundred books in our house. Maybe more. We check out twenty or more from the library each week. Daily, almost hourly we are blessed by access literature, and wanting to share this magic inspired my little ones. With care, and a feeling of responsibility, the kiddos combed through the books we have, carefully removing the newest ones (
Because we can always buy them again or check them out from the library, these kids need them more!
They So got it.) We also ordered a gigantic cartload of our favorite books from Amazon to donate. This money would have been our kids' Christmas from their parents or Santa and we gave it away. The children were so proud and excited to bring their treasures to the library and tell their favorite ladies what we had for them.
They rained literature into the arms and laps of the librarians and felt
glorious
about what they were able to give up, and give.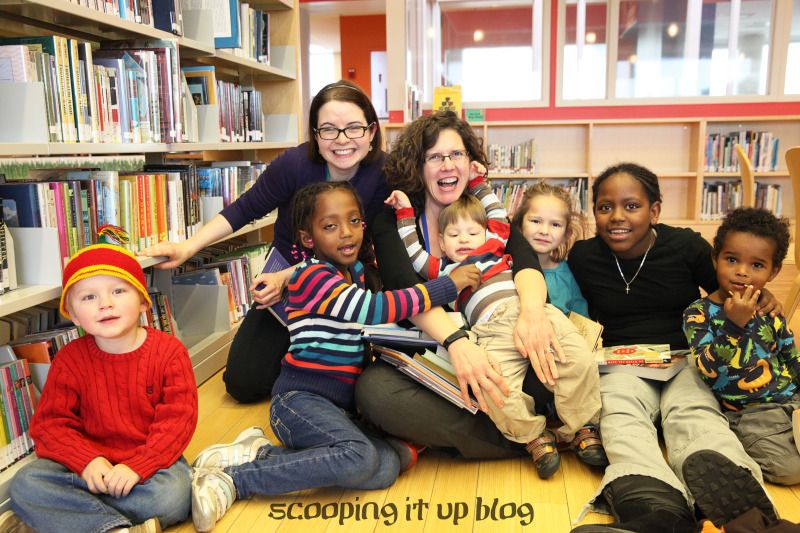 And thus, this is how we get rid of stress during this important season. Christmas is truly calm and bright when my children do not write letters begging for gifts and expecting them. Those things just caused chaos, melt downs, and anxiety in the past. Now, they have a good feeling of giving, and zero expectation of the day besides singing songs, making cookies and hoping for enough snow to go sledding. It will be fun to surprise each of them with (
shhhhhh!)
their very own clip board so they can color and write anywhere in the house and they don't even have to share! And each their own new book by way of thanking them for being willing to give so many of ours away. That is it. That is how Christmas has evolved here.
Thank you again to our wonderful librarian friends, who gave us the idea for our Christmas Cause, and of course, without whom I may never have ventured into a library again after the five or so really bad experiences at the library in our town. We are so lucky. I wish every kid had this place, these people. Another thank you to a few good friends who read about this on the
Scooping it Up FB
community who pitched in and donated books as well. Thank you for making our pile bigger. You rock.
Final note, if you have kids that seem to freak out every Christmas due to similar factors as some of mine, don't be afraid to just end the madness. Tell grandparents and cousins that certain gifts cannot and will not be given to the children. That this day needs to be slow, with very
very
few things to open. Taking this holiday by the reigns has taken a few years, and warranted a lot of conversations with the mantra in my head "Just Say No." After a few years of negotiations and explanations, both sides of the family are supportive and help the sanity level in this house. If that is something important to you, I hereby give you the nudge to make Christmas what you want for your kids.
I hope the next few days are fairly calm and happy!