On our most recent trip Hubs and I made a deliberate 12-hour layover in Frankfurt, Germany before heading to Addis.
Little known fact, I used to be very proficient in German. I spoke it well enough in high school and college to carry on conversation, accidentally respond in German sometimes, and read books auf Deutsch. Much of that proficiency is gone, but anytime I get a chance to test if I have any functioning brain cells remaining I cannot resist. We thought
We might not ever get to "do" Europe. This layover might be our only shot for the next ten years.
We were so happy to have this time together to relax, stretch legs, nap like hobos in public parks, explore and put my German to practice. All the fun stuff to see and do in Frankfurt is only a fifteen minute train ride from the airport, and as it turns out, no one bothers to check if you've bought your tickets or not. (Don't worry, we paid our fare.) And sometimes you can pretend to be messing with camera settings but really you are checking out your hunk of a husband.
Right outside the train station was this restaurant. We both burst out loud laughing when we saw it. Marche used to be in the Prudential Center in Boston but has been gone for years. This was the destination of our first date, back in 2001.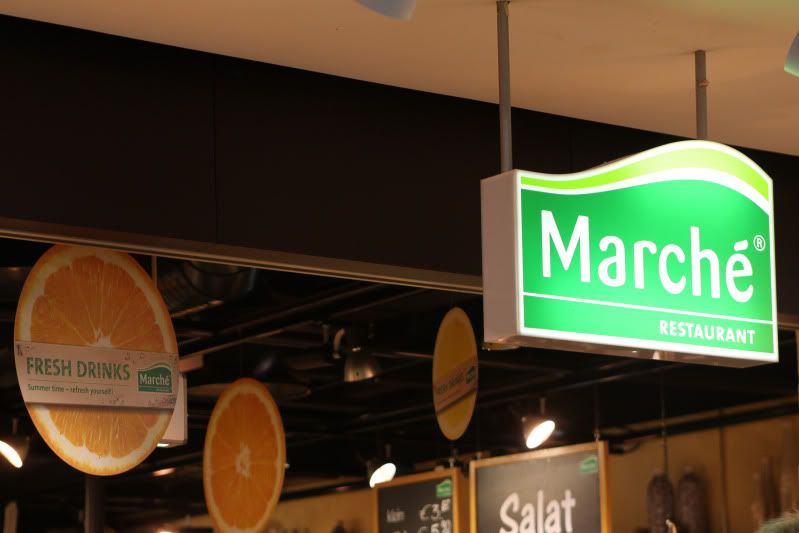 Seeing it brought back fun memories of us being embarrassingly into each other on that first date.
In Frankfurt we read, practiced Amharic and napped on our Lufthansa airplane blankets. I pretended like magical Health Fairies who respect my mild but pervasive germaphobia wash those blankets in between flights. They are cool like that.
I don't know what kind of crazy geese these are but we don't see these suckers in New England.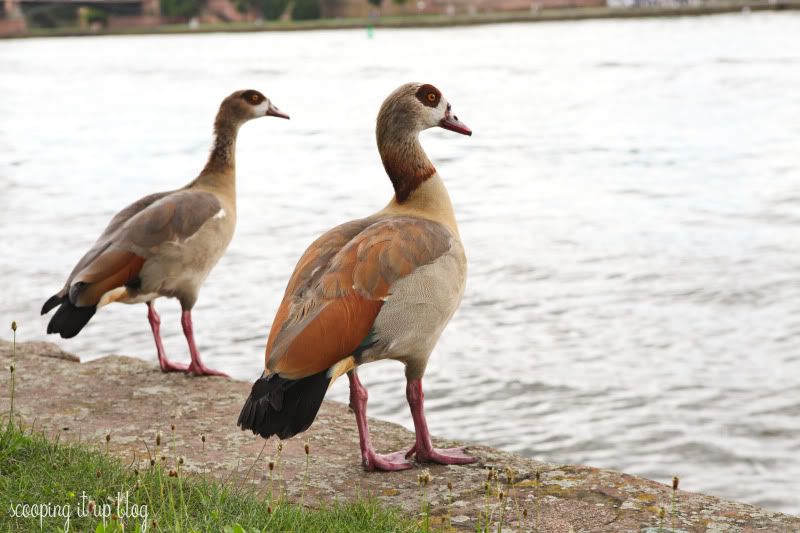 We did touristy things like eat excellent but unidentifiable deli meat sandwiches and strudels and people watched. Why,
why, are
bread and meat, okay,
all food,
better outside the US? Why do we eat so poorly here? Why do we accept fake food as standard and acceptable? I felt the need to document my lunch because it was from a crummy little cafe that honestly kinda belonged in a mall food court, and it was the best sandwich I've ever had. It wasn't just the hunger or hours on an airplane talking. This sandwich was legit. Germans don't get enough credit for the food situation going on over there.
Speaking of people watching.
I was fortunate to have snapped Hubs' smirk with this store in the background.
I think by far my favorite place to visit was the very old St. Batholomew's Cathedral. It was stunningly beautiful and peaceful. And we caught the tail end of a wedding (oh how I'd kill to shoot a wedding in a space like this. The natural light was amazing)
I was struck by this stained glass because in the first part it says almost verbatim "
articles of faith
" we learn to recite as children in my own faith. This reads,
I believe in God the eternal Father of Heaven and earth, and in his only begotten son Jesus Christ...
I love connecting with other religions and ways of believing.
I was feeling a little bit overcome when I got to this piece. The expression on Mary's face, the position of their bodies...
Then, when we got to the place where we could light a candle and pray for someone, well, it kinda did me in.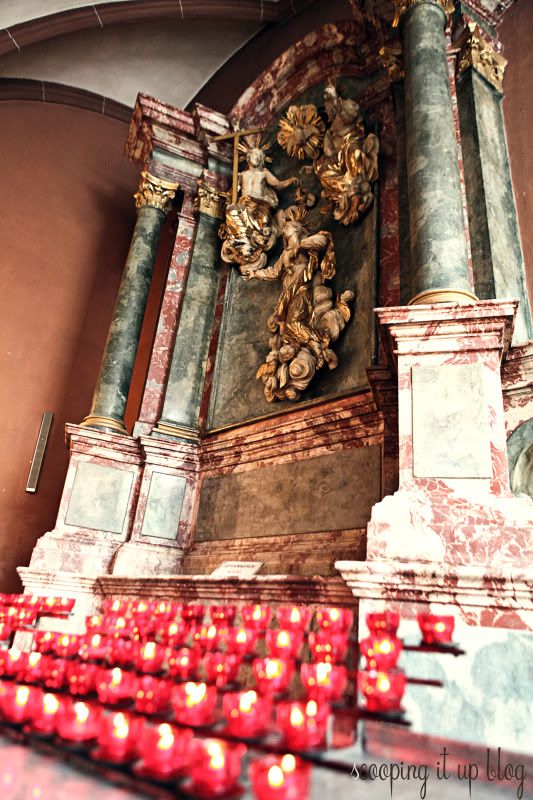 We talked in whispers about our daughters' first family. How anxious we were for the girlies, how much we wanted to be with them, and how intensely terrible it is that our longing to be with them is a feeling that will end for us soon, but that longing for the family they leave behind and their longing for these special girls will last for years, or forever. Not for the first time I wept for another mother, with grief in her heart. And we lit a candle for her. It simultaneously felt like the right thing to do and yet so trivial. A band aid on a slashed artery. Not to say that God hasn't used less to heal worse, but there is no doubt about it, adoption is built on the worst of all losses: the loss of one's family. Maybe in my heart this candle was lit not as a "Goodbye, good luck, God, please look after their mother." But more as a promise to God and my daughters, that this is not goodbye. This is not a cut tie. This adoption will not mean losing family forever. Will there still be separation and loss, grief, and trauma? Yes. But if we work hard, keep our hearts and minds open, the channels of communication and love will stay open indefinitely.
Too soon, and not soon enough, we were rested, fed, and just worn out enough to hop back on a red eye to Ethiopia.
By chance we met a friend in the airport. This connection proved to be the saving grace of our trip. I cannot resist a new baby and helping a mom traveling alone get through customs.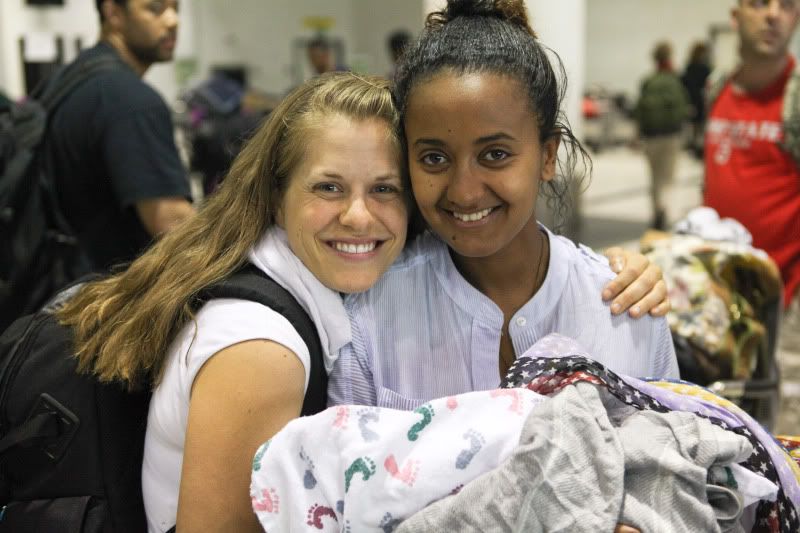 I have an illness: I am away from my kids for just a few measly hours and I latch onto someone with a kid so I can be a Mommy's helper. Her arms were aching from holding her tiny one for the last nine hours, and she was happy to oblige my going gaga while finding her bags.
That is the story of us getting there. To Ethiopia. It would be a mere few hours until we were able to meet our new daughters for the first time...
to be continued...
*PS. A little birdie told me if we are lucky we will be submitted to Embassy this week. Continued ridiculous nesting and general internal Freaking Out is underway. C'mon paperwork.