GRATITUDE I
Ringworm? Check
Molluscum Contagiosum? Check
Giardia? All three kids from Ethiopia, never. Hubs and me and eight trips to Ethiopia between us, never.
I will take ringworm in this house six times over as long as we can stay parasite free. Fungus, welcome aboard. Glad to know you.
GRATITUDE II
Kids who love
Little House
books. We finished
Little House in the Big Woods
,
Little House on the Prairie
, and have recently started
Farmer Boy
. When they learned that Farmer Boy is about Almonzo, the little boy who grows up to marry Laura, they freaked out like they were hearing about the wedding of Kate Middleton and Prince Whatshisname. They are so delighted to connect to these real people and what life was like for them. History unfolds in these pages, and it has been wonderful to see them learn how life was so very different in the 1800s. In
Prairie
, Laura goes into detail describing how Pa builds their house, and we took advantage of this narrative to try and imitate it. It was hard work collecting "logs," shaping them, evening out rough spots, creating notches where they would rest on each other. Our little model took hours, caused injuries, ya know, the good stuff. Home school marches on.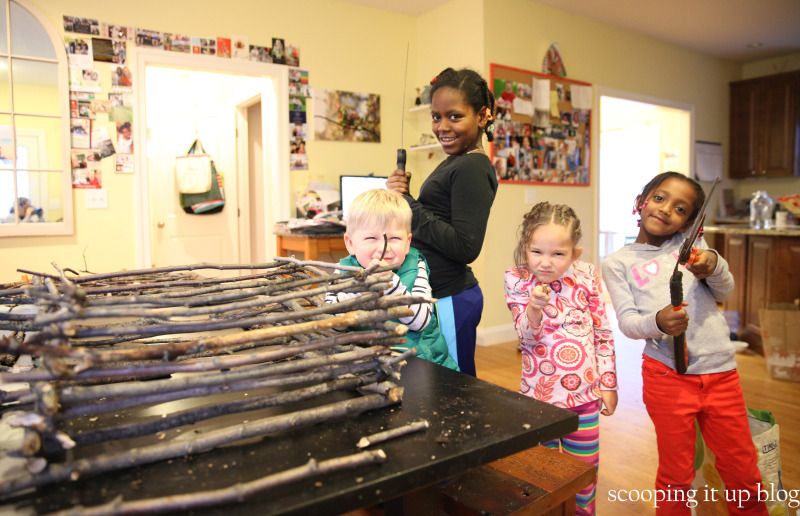 GRIPE (IN LETTER FORM)
Dear Taylor Swift,
We've had a rocky journey. At first I found your stardom disappointing. I mean, you can't sing at all. You probably would have been rejected had you auditioned for a high school choir of any caliber. This isn't judgement, it's just true. Sometimes I have a hard time with people getting music awards for singing when they can't sing well. But then I read an article in some in-flight magazine where you admitted you couldn't sing and were all cute and smart and humble and then I thought,
OK, at least she knows
. I can respect that. And I will join in with the rest of pop-lovers (even though I am not a pop music lover) and admit you have a knack for writing catchy, fun, relatively wholesome music that makes my kids get up and dance and that is almost never a bad thing. So we were on the mend. And then, you came out with this song
Trouble
.
I have some questions for you, Ms Swift. What exactly are you talking about when you say you are now lying on the "cold, hard ground?" Because when I hear that, I think,
This is a problem. Did she get beat up? Did he actually hit her? Or perhaps worse, did he sexually assault her? This lying on the ground thing seems to have happened suddenly, was she drugged and assaulted?
Everything about that imagery, for me, is violent. Unless it's supposed to be a metaphor. Like, you
feel
like you're lying on the cold, hard ground. But you don't say that. You say over and over, you knew someone was trouble, he took you to places you've never been (Where? And why are you making it sound mysterious and fun for girls to discover
where
exactly a terrible person can take you?) and now you're lying on the cold, hard ground.
Also, how did you know he was trouble? Did he walk in with a crack pipe? Did you meet him while he was hurting another woman? This song contains catchy phrases like "joke is on me" "shame on me" but I gotta tell ya, while there are way worse lyrics to songs and images in songs in this universe, and far
far
worse examples and singers out there in Pop/Rock Singer Land, (1. Fergie 2. Nicky Minaj 3. Rhianna 4. Kei$ha 5. Just about everyone else) I am annoyed. I was enjoying this understanding we had where you sing cute songs that don't make me change the station for my kids.
While I am not disgusted with you like the other aforementioned "artists," I am creeped out by the "I am attracted to emotionally and/or physically abusive boys OH WELL!" theme of this song. I change the station it when it comes on, even when my three daughters are not in the car. You are one of the good ones. Come back to us, Taylor Swift. Don't get sleazy and nasty.
Thanks,
Uptight, Whiny, Over thinking Mom
GRATITUDE III
Responsibility. The children, especially the other four have been incredibly mature lately and had ample opportunity to demonstrate a high level of Crud Togetherness and Teamwork. We are quite suddenly, in the last four days, a host family for a mother and baby here from Ethiopia to receive treatment for a dangerous condition that cannot be treated in Ethiopia. The children have had to make room at our table, in their play time (S
hh, yet another baby is napping in yet another room!)
in our home school schedule for me to run Mama B to the hospital. And traffic stinks. And sometimes things take longer than we thought. Hubs and I are realizing more and more that we are not just Hotel Scooping it up, either. That we may need to play a more personal advocacy role to make sure the language and cultural barriers between surgical team and Mama "B" as I will call her, is as smooth as possible and Mama B can make the most informed decisions as possible for treatment. It has been not a little intense trying to go to bat for Mama B.
The children are working together as a team, cleaning dishes, helping make meals, setting tables, doing school work assignments with greater obedience and positivism than I have ever seen. Even Cookie Monster, who is not yet five, has sat with his older sisters at the table, done school work, and cooperated with them while I have been to the hospital with Mama B.
Having her here, having another two more humans to add to the mix has been humbling, wonderful, tiring. She is a blessing and we feel a huge Divine Intervention in having her here with us because we are in a position to help, and step up the amount of help. But it has required a lot from the children.
Also, having an Amharic speaker in the home has rekindled everyone's efforts to speak/Amharic. And her
ch'chebsa
is way better than mine, so you bet your bottom dollar I will be updating my recipe post to include her methods.
Another bonus, Mama B is a world class runner and has shared her stretching techniques with kids who needed some P.E. on a snow day. We are a little star struck by her coolness.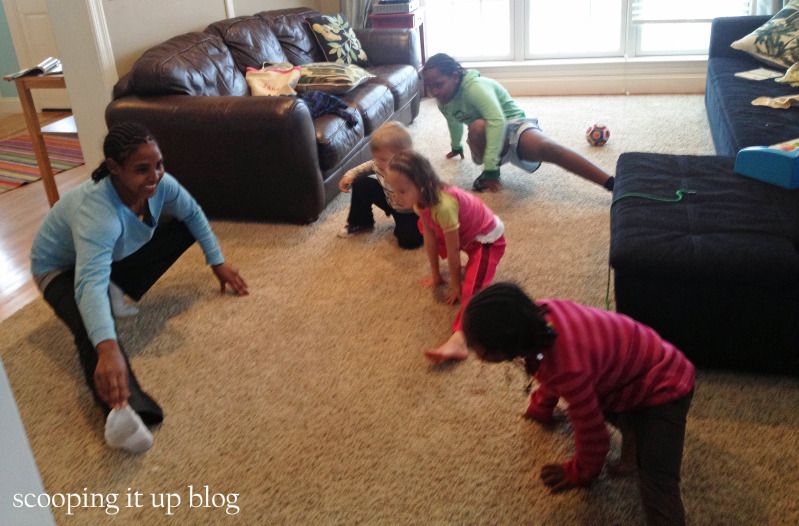 GRIPE AND CONFESSION
Brady, my baby. My youngest. My preemie. My little man. My six early intervention appointments a week champion, has arrived at Almost Three Land. I am not enjoying it. He is a screamy, whiny, tantruming mess. I need to find joy in this child. I need some alone time with him. Which he deserves. Lately he has been running to his big sister Mimi's arms almost as much as mine. I had a fearful thought this week.
What if he's giving up on me meeting his needs. What if he is attaching to her as a care taker instead of me
? I've been panicking a little, though I realize that in large families, this dynamic is not unheard of. I remember at twelve-years-old getting up in the night to rock my baby brother to sleep when my mom and dad slept through it. He isn't attached to me in a weird way. I am sure they were glad for the help and I loved feeling like a responsible teen at the time. But his arms raised to her scared me. Him running to her leg to cry. I want to make sure I am meeting his needs. Time to dig out the Ergo to throw him on my back while cooking or doing school, I think.
Happy weekend to you. I am busy trying to shake off a bad mood induced by stress and excess snow. Sometimes, I really really hate living in New England. And that is because I am a huge baby about any temperature less than 70 degrees. We have
injera
, pears and almost enough chocolate to get us through the next few days. Be safe, all. And warmer than here I hope.